Xpilot : Newbieguide

: The client

---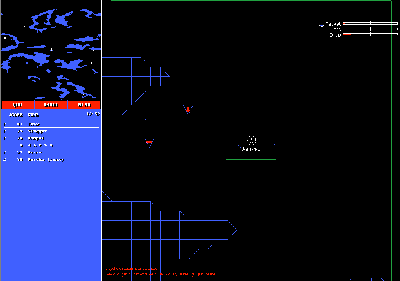 This is what the client looks like. The window in the upperleft is your radar. You can see all the other players (if the server allows it) as white dots. Your ship is the white dot with a line sticking out of it. That line also gives the direction you are facing, which can be quite helpful when you shipshape has no apparent front.
The right window is the actual playingfield. The ship in the center is your ship.
The lower left window shows the menubuttons and the players playing on the server and it usually looks like the image below.
It can show additional information. Like in which team you are when playing on a teamplayserver or in what alliance you are.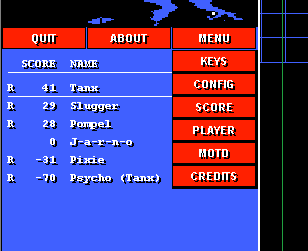 When a name is written in black, it means that that player is not playing.
The players can have a letter before their names.
'R' means that that player is not a human, but a robotplayer.
'D' means that that player is dead. He has to wait until a new round starts. This happens when you play on a server where you have limited lives.
'W' means that that player is waiting to join. He has to wait for a new round to start before he can start to play.
'P' means that that player is paused. When a player doesn't move for a while he automatically is paused.
This window also shows how many points each player has. The white line beneath Tanx means he is (currently) the best player. Depending on the playmode it can also display additional information. It also has some buttons, which can be seen in this picture. The buttons in the lower left window:
Quit

This button will quit the client, ending the game.

About

This button will explain all the items and some additional info about the game itself.

Menu

This button will unfold the rest of the buttons. Keep the mousebutton pressed though.
Keys

Keys will show you which key does what. It doesn't really work well in Windows, that why I have made a screenshot of it.

Config

Config allows you to change the options of your client. These options will be handled in "Basic configuration" and even more in "Advanced configuration".

Score

Show the playernames and their scores, which is the default.

Player

Show the user@host info. This allows you to see where a player comes from or to identify a player who uses multiple nicks. You can alter your own user@host combination in "Advanced configuration".

Motd

This will display the Message Of The Day, if any. It usually contains a little explanation on the objective of the map. Unfortunately this too doesn't work too well in Windows.

Credits

This will display the credits and some info about your client.

Error, corrupted file
Error, id 002 does not exist